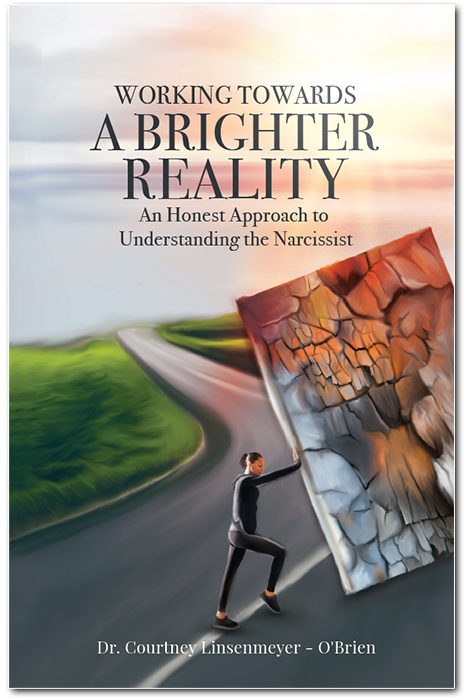 Working Towards a Brighter Reality

An Honest Approach to Understanding the Narcissist
---
Providing an understanding of narcissism and allow you to see what it looks like in a relationship. It puts words and meaning to the reality of narcissistic abuse and healing. The content within and true stories of victims bring validation to the reality of narcissistic abuse. This book uncovers the reasons why narcissists control at the expense of others and exposes the insecurities masked by a narcissist's display of self-confidence. More importantly, it will provide hope when there seems no way out and encourage you to embrace faith in your own way to change your life.
Order From Barns & Noble
Order From Amazon
3/30/2020
I'm now using (all) forms of video conferencing as well as phone sessions to service clientele. I can be reached by phone or email to set up sessions.
Phone: 918-639-0570
Email: drobrien@drcourtneyobrien.com
Tulsa Therapy Services
Sexual Health
Simple, open, accurate, and supportive education about sex and sexual behaviors or responses may be all that is required in many cases. Many couples may benefit from joint counseling to address interpersonal issues and communication styles. Individual counseling may be required to address depression, anxieties, fears, inhibitions, poor body image, and self-respect. Please click below to learn more.
Read More
Push through your challenges with hope and determination. Always look forward unless you are learning from your past. Time and forgiveness will guide your emotional growth. Healing is not only about having closure with others and the past; it is coming to terms with your own failures.
Feeling Lost?
Let Us Help You Reach Your Goal of Better Health and Wellness
Need an Appointment?
We see people on a one-on-one basis but recognizes this isn't always possible. To accommodate clients who travel, live in other parts of the world, or cannot always make their office appointment, we use electronic resources to guide the therapy process. This allows us to be available while out of the office and in cases of emergency.
Mediums of Therapy Sessions include:
meeting_room - In Office
local_phone - Phone
voice_chat - Skype
face - In Person
Hours:
Monday - Thursday (9:00-5:00) | Friday (9:00-1:00) | Saturday/Sunday (Closed)
Office: 918-794-0570
Cell: 918-639-0570
Click below to Schedule an appointment with Dr. Courtney O'Brien
Make an Appointment